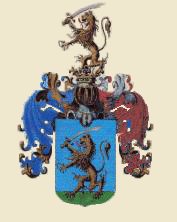 Ancestral Coat of Arms
of Vadadi Filep's Family
The name of Vadadi Fülöp's origin was Filep György at 1574 from Vadad.
György Fülöp was granted a noble charter in 1574, so the family
got the noble name VADADI which is a name use his descendants
(as a talented law-abiding family) deservedly deserve.
Due to immigration, the names of families scattered all over the world have also
changed, so the original Fülöp became Philip, Fülep, Filip, Philip, Philippe, etc.


III. Meeting of Vadadi Filep families, 2006. Nagytevel
V. Meeting of Vadadi Filep families, 2-4 junly 2010. Esztergom-Pilismarót